SILESTONE COUNTERTOPS WORCESTER MA, GREAT PRICE & 100% SATISFACTION!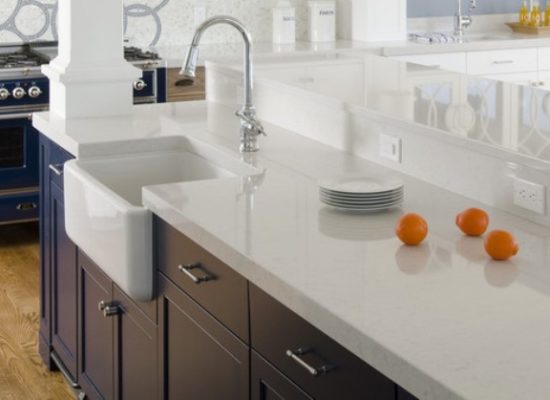 LIMITED TIME ONLY
A FREE DOUBLE SINK UPGRADE WORTH $250!
Silestone is a quartz stone product and is among the leading materials for countertops use. Silestone is made from a mixture of 95% natural quartz and 5% resins to create an engineered surface that is attractive and durable. It's engineered surface makes it strong enough to be resistant to surface damage more than traditional laminates. It is also less susceptible to fracture than quarried granite.
Silestone countertops Worcester are a combination of strength and beauty to make a superior choice for kitchen countertops and bathroom vanities. The natural quartz in Silestone gives it superior radiance, a cool and brilliant clarity. So, Silestone countertops Worcester have everlasting beauty and stylish elegance that any stone countertop has.
# Why Buy Silestone Countertops Worcester Ma
Silestone countertops in Worcester Ma are a trend for home improvement projects and building construction for reasons bordering around:
01.Natural Beauty
Silestone countertops Worcester Ma have the timeless beauty and superior elegance of natural stone. The quartz in Silestone delivers exceptional radiance, utmost precision, and solid feel possessed by natural stones. As a result, Silestone countertops Worcester add beauty to any space they are installed.
02.Versatility
Silestone countertops Worcester can be put to a wide range of uses such as kitchen countertops, bathroom vanities, fireplace surrounds, tabletops, wet bars, and more.
03.Strength
Silestone countertops Worcester are sturdy and durable. Silestone is a product of quartz and only three natural minerals- diamond, topaz, and sapphire are harder than quartz. So, Silestone countertops are durable and less susceptible to chipping and cracking.
04.Resistance to Scratches
Due to the strength of quartz, Silestone countertops are resistant to scratches. Their surface does not get scratched from careless slips of the knife, unlike laminates. So, they are suited for kitchen countertops.
05.Resistance to Stain
Silestone countertops Worcester Ma have the polished and non-porous surface that has resistance to stains from coffee, wine, lemon juice, and vinegar. Silestone countertops need not be sealed to maintain its lustrous shine.
06.Resistance to Heat
Silestone countertops are resistant to heat and scorching and can withstand limited exposure to heat. It can withstand the hotness of cooking utensils such as pot, kettle, etc.
07.Diverse Colors
Silestone countertops Worcester Ma are available in over 40 colors due to dyes being added to resin and quartz during manufacturing. It is possible to find the exact color that suits any theme or style.
08.Free from Maintenance
Silestone countertops have a nonporous polished surface that requires no sealing, resealing, polishing, and reconditioning like granite, marble, and limestone that must be sealed and resealed regularly to prevent staining. All that is required to clean and maintain Silestone countertops is a damp cloth with mild soap.
Are you searching for the best way to improve the aesthetics of your property? Are you looking for a company that offers high-quality Silestone quartz countertops in Worcester and superb installation services? Your search is over.
Contact Granite Brothers at https://thegranitebrothers.com/ for high-quality Silestone countertops Worcester Ma at factory direct prices due to direct importing of materials from the source. We offer excellent craftsmanship at a great price for perfect installation of your items. Contact us for free project design consultation with professional designers. At Granite Brothers, excellence is our watchword.